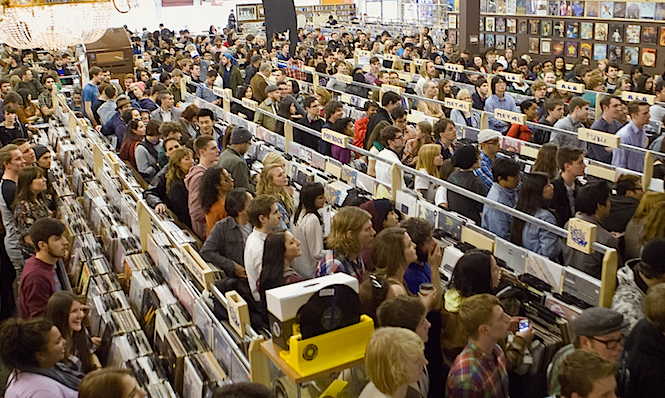 Dropping the Needle, Again
Time to dust off those records, vinyl is making a comeback. Records have spun themselves to a staggering 52.1% revenue growth over the past year. This is astonishing given that records compete against numerous competitors that are more convenient and less expensive. However, there are enough audiophiles and music lovers out there to help propel records to become the fastest growing music format this past year. Revenue from vinyl records have actually surpassed those of ad-supported streaming services such as Spotify. Each of these music sources have experienced revenues of $227 million and $162.7 million in the past year, respectively. Records have not seen revenue figures like this for a very long time.
So why are vinyl records making a comeback? We can attribute this to a number of things including the consumers' need for a physical copy of their music, the enhanced sound offered by records, and more ways to buy records than ever before. Both Amazon and Urban Outfitters offer an impressive online selection of records with countless other sites selling records as well. Also, retailers such as Barnes & Noble and Hot Topic have dedicated a section of their stores exclusively for records. We can also not forget about the mom and pop record stores across the country. They even have their own special day now. Record Store Day, held annually on April 16th, encourages consumers to come out and support local record shops by offering special, limited pressings of new and old releases. These collectibles bring the record collectors out of the woodwork and into the store. Today's new releases also come with special packaging and are pressed into colorful vinyl instead of the classic black. Speaking of colorful vinyl, each new pressing of a release is accompanied by a different colored vinyl further adding to the collecting aspect of records. It also helps that most records come with a digital version of the album. All of these positives have helped contribute to records' resurgence.
However, there has to be a down side to all this. We must remember that records have had a cyclical past and have a long way to go to overtake paid for subscription streaming services. Paid subscription streaming services posted revenue of $477.9 million, which is a 27.1% increase in the past year. Despite records sales growing faster, their 52.1% increase is still not larger than the 27.1% increase in terms of real dollars. Records also require one buying a turntable and speakers, which is a formidable investment just to listen to some music. This is an even more of an inconvenience since users can access millions of songs on their smart phones through a variety of streaming services. Obviously it is going to be an uphill battle for records as they compete against Spotify, YouTube, Amazon, Apple, and several others.
Despite the shortcomings of records, there is still hope for record collectors. We are seeing that records are becoming more elaborate with each new release. This combined with more accessibility has helped the vinyl record industry experience another surge in popularity. Is this just another cyclical performance? We will just have to wait and see. In the meantime, let's flip that record over to its B-Side while we wait.