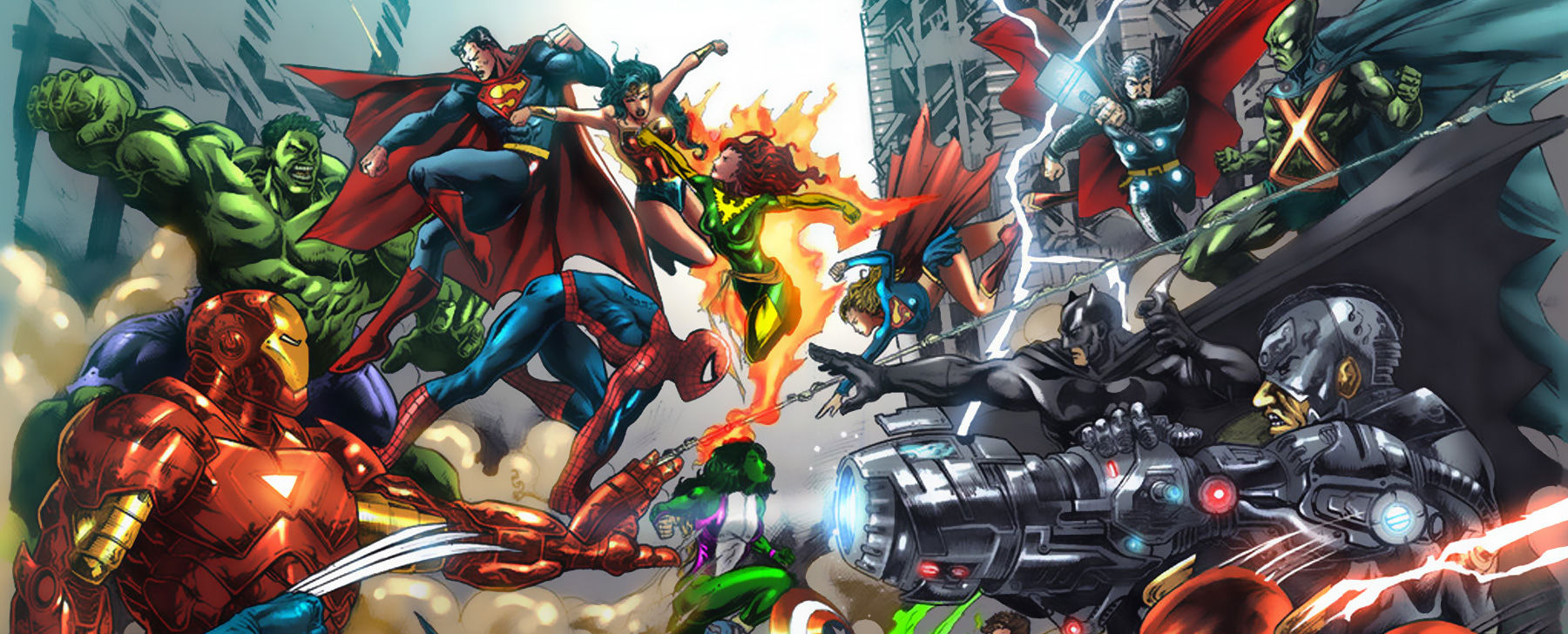 Saving the Day at the Box Office
Superheroes have been battling evil since the dawn of time. However, they're now battling themselves on the big screen. This is not the fight between good and evil, but the battle between Marvel Studios and DC Comics. Superhero movies have become a summer time staple over the past several years, and for good reason. Marvel Studios has generated over $10 billion at the box office since 2008's Iron Man. The other comic book juggernaut, DC Comics, hopes to see similar results as they launch their own extended universe movies. However, Marvel Studios is currently winning this heavy weight battle.
Marvel has produced a total of eleven films since 2008 and shows no sign of slowing down. We have seen films featuring heroes such as Iron Man, the Hulk, Thor, Captain America, and several others. These characters all get their own solo film and are featured in the Avengers cross over films as well. It looks as if the world will still need saving in the future as the studio currently has plans for another nine films in the upcoming years. We can expect to see the introduction of new characters such as Dr. Strange, Spiderman, Black Panther, and Captain Marvel, with existing characters receiving sequels. Villains also need to be defeated on the small screen. Marvel Studios produces television shows that further develop story lines to watch while we wait for the next blockbuster to be released.
DC Comics will be battling back hard against the Marvel heroes. The company has already produced two movies and have eleven more planned out through 2020. DC Comics is following a similar strategy as Marvel Studios by having solo movies with a few cross over films worked in as well. We can expect to see solo movies for Wonder Woman, the Flash, Aquaman, Cyborg, and the Green Lantern, accompanied by Justice League cross over films. Like its competitor, DC Comics also produces television shows; however they are in no way connecting to their movies. It will be interesting to see whether DC Comics will be able to be successful in using the extended universe strategy invented by Marvel Studios.
Moviegoers are not the only ones loving this plethora of superhero movies. Investors are anxiously awaiting the next blockbuster, not to watch the film, but to see the earnings. Since acquiring Marvel Studios in 2009, The Walt Disney Company (DIS) has seen its stock increase 344%. Although this entire increase cannot be contributed to the movies, the multi-billion dollars generated by the films have definitely helped the company. DC Comics is owned by Warner Bros. Entertainment, who is in turned owned by Time Warner (TWX). This parent company will hope to see similar results as what The Walt Disney Company have been experiencing. However, DC Comics' movies will need to overcome Marvel Studios' strong foothold in this niche market and high production costs to do so.
With the highly successfully superhero films, we can expect to see plenty more over the foreseeable future. Marvel Studios has proven time and time again, that superhero movies have been become a cash cow and have the possibility to continue to grow even larger as viewers create an emotional connection with the characters. Marvel Studios' arch rival DC Comics will try to mimic this success in the future. The question is whether the Marvel heroes can be defeated on the big and small screen. While we wait to see the winner of this battle, one thing is for certain; the world will indefinitely need saving in this multi-billion dollar film genre.